Description
The Automatic Pet Feeder 6-Meal
makes sure your pet is fed even when you aren't home to do it. This handy feeder accommodates your busy schedule by allowing you to fill up 6 one portion sections and set a timer for when you would like your pet fed. What a great worry-free way to make certain your pet is always fed on time. Great for portion control and establishing eating routines.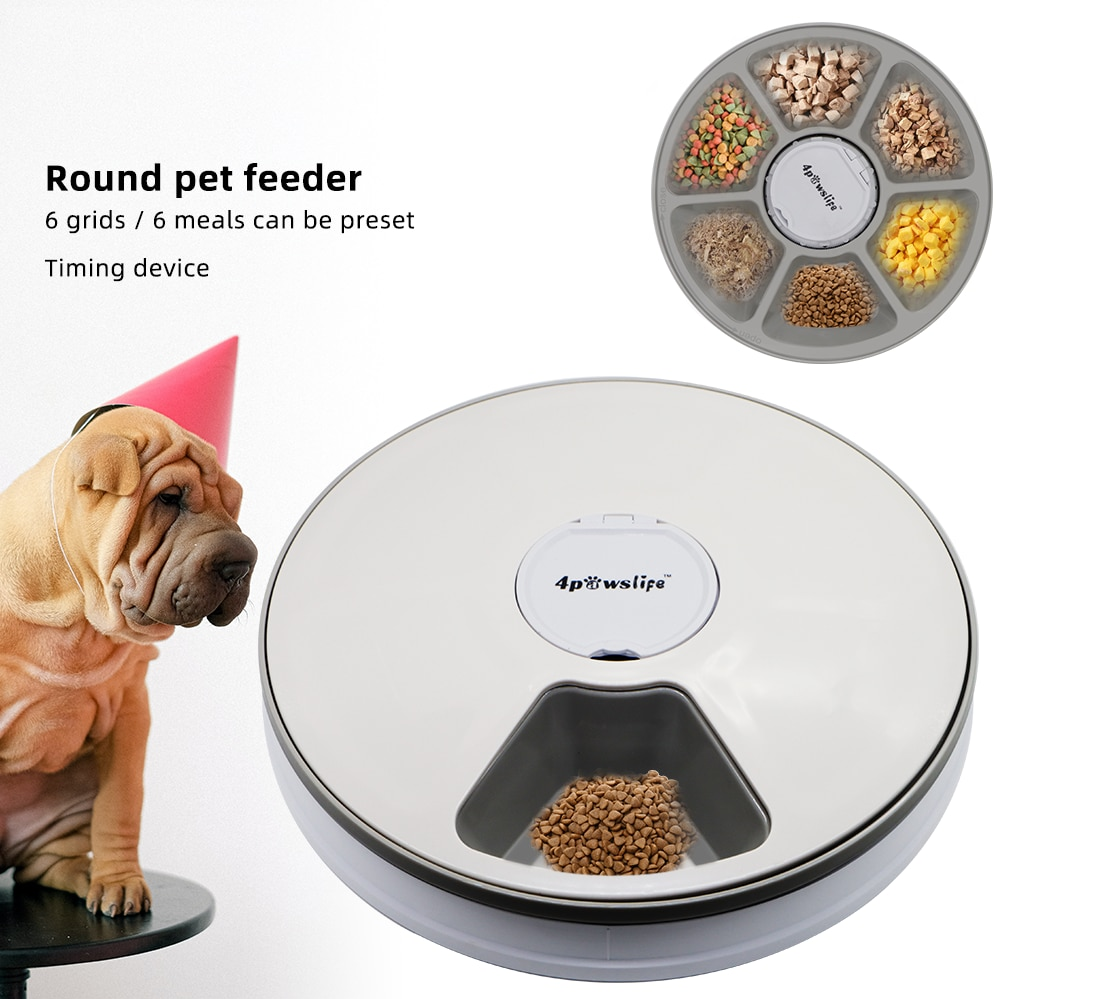 Features:
1、Automatic timing pet feeder: Timing device, adjust pet eating time within 24 hours, do not worry that the pet will feel hungry when the owner goes out.
2、6 meal design: You can set 6 meals at 6 different times in advance, put 6 piles of grain into 6 grids, and have a music alert.
3、Food Dispenser with Voice Remind: Portion Control Sound alert call your puppy or kitty for meals, will help your pet keep a good habit to eat at regular hours, and keep diet.Best choice for irregular on/off-duty time,Electronic pet bowl feeds your animal on time whether you're home or away.
4、Easy to Clean: The removable lid of animal auto feeding plate and food tray are dishwasher safe,other parts can be wiped clean. Food tray is fixed by 3 locating hole to prevent any pet-break-in,easy to dismounting by human but not easy by pets . High quality conveyor design dispenses most sizes of dry and semi-moist food and helps prevent jams.
5、The product is made of food grade materials and is harmless to humans and pets.
6、Simple and elegant appearance, suitable for cats, dogs, rabbits and other pets.

Easy to Use
Proper Diet
Optimal Size
Includes: 1 Automatic Feeder, 1 Operating guideIntended Pet(s): Dog, Cat, Small PetMaterial(s): BPA-Free plasticProduct Dimensions: 4.25 in x 12.5 in x 17.375 inCapacity: 6 cups
Max Output: 300g
Material: Plastic
LCD Display: Yes